Overview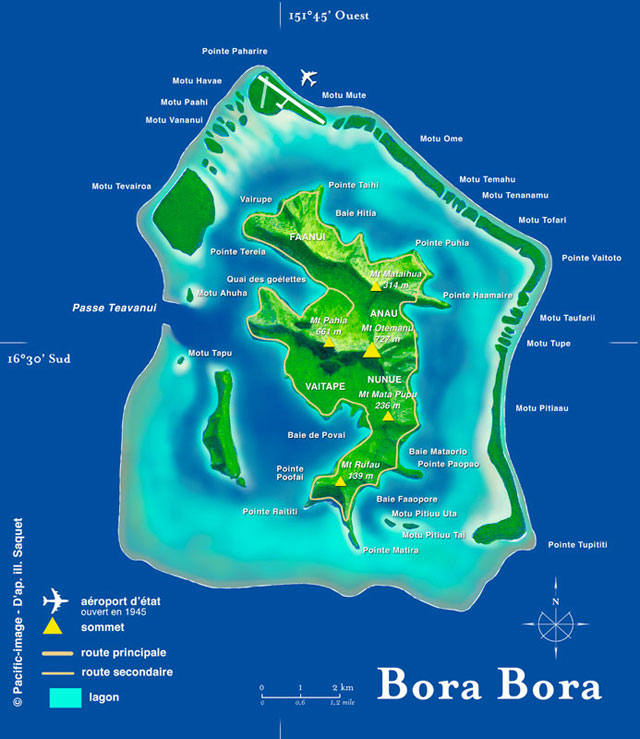 Bora Bora is an island group in the western part of the Society Islands of the French Polynesia. The main island, surrounded by crystal blue lagoons and a exquisite barrier reef, is located northeast of Papeete. Mount Pahia and Mount Otemanu, extinct volcanoes, remnants remain in the middle of the island, which stand tall 2,385 feet.
Bora Bora is a great vacation experience for families, couples/singles, and newly married. Many go here to get away from there everyday life and enjoy the sandy clean beaches, while getting tan in the sun. Relaxation is a huge factor on why foreigner visit, along with island adventures, watersports, cuisine, and island culture. I mean who wouldn't want to relax on beautiful beaches, hike up Mount Otemanu, go scuba diving with friends, try diverse flavors in cultural foods, and participate in traditional dances… sounds like a great deal of fun to me.
---
Transportation
To get to Bora Bora many vacationers fly into the Motu Mute Airport, located north of the main island. But once one the island the main vehicle for transportation is the two wheeler. It is much cheaper than a rental car, but this is also an option. The best way to explore Bora Bora is by bike, which is no probably at all since it only takes 4 hours to cross over. Another way that locals use is, Le Truck, the bus system, which is highly unpredictable.
---
Climate
Bora Bora's climate is revlavatily fantastic especially if you are coming from a place such as Seattle. The temperatures are always high, on average. The rainy season are during the months of January through May and pick back up in October to December. It is not like hurricane rains just showers here and there. December is the wettest month. This month should be avoided if you don't like too much rain. But other than that sun always shining with impeccable weather.